BEAT
Covenant Compliance and Trend Analysis Dashboards
Covenant compliance and customer performance are key credit risk indicators for commercial banks. Current commercial bank practices mostly depend on manually tracking covenant due dates and independent validation of covenant compliance. At times, bandwidth to validate the quality of borrower-provided calculations is limited, leading to a fragmented covenant-monitoring process.
To help commercial banks manage such voluminous tasks that have a manual overlay, Acuity Knowledge Partners offers Covenant Compliance and Trend Analysis Dashboards.
This tool monitors the covenant performance of each borrower, validates compliance certificate disclosures, monitors compliance, and provides early warning signals of a deterioration in covenant performance.
---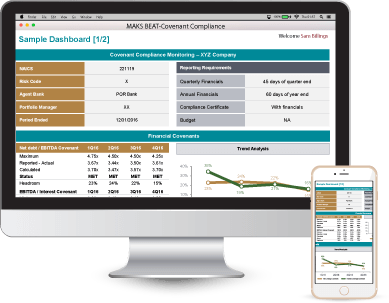 Features
Independent validation of financial covenants based on definitions in the loan/facility agreement
Comparison of the calculated number with the required threshold as per the loan/facility agreement and trend analysis
Monitoring changes in applicable pricing based on movement in financial covenants
Dashboard to reflect covenant compliance status
Approach & Impact
Approach
Covenant definitions in credit agreements are auto-read through the use of optical character recognition (OCR) technology
Covenants are categorized as standard or non-standard
Financial spreads are imported to the covenant calculation template using the BEAT Autospreader
Populates the applicable line items from financial statements, calculates covenant metrics, and compares them with covenant thresholds
Impact
Potential time savings of 30-40%
Standardization of the monitoring process across the bank
Early warning signals in real time of a deterioration in covenant headroom
Timely flagging for corrective measures in anticipation of a breach or visible deteriorating trends
Generation of an automated trigger linked to financial covenants to signal a change in loan pricing