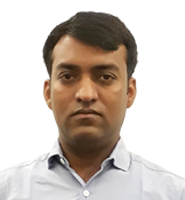 Santosh Kumar
Manager, Data Processing
Santosh has around 12 years of experience in data cleaning, tabulation, and visualization. He has provided data support to marketing research agencies, helping them prepare key insights for business processes.
He has successfully delivered projects around diary data, pharmaceutical data, and product/concept test. He has been at Acuity Knowledge Partners for 11 years, where he is responsible for conceptualizing specific client needs and framing solutions to assist in business development efforts. Prior to joining Acuity Knowledge Partners, he worked at Annik, where he delivered tabulation projects.
Santosh holds a Bachelor of Commerce from University of Delhi and Diploma in Computers from DOEACC.