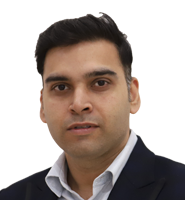 Rohit Tyagi
Deliver Manager, Strategic Research and Consulting
Rohit Tyagi is aligned with Acuity Knowledge Research's, Private Equity and Consulting team. He has over eight years of experience in managing and executing consulting projects for Energy & Utilities (E&U) sector clients.
Rohit has diverse experience of working with stakeholders across the value chain including energy utilities, regulatory bodies, generators, national think tanks, bilateral and multi lateral donor agencies etc. with focus on clean energy, energy storage, electric mobility, digitization, artificial intelligence etc. Rohit has managed/executed consulting projects pertaining to; corporate advisory, growth strategies, business plans, investment solutions, commercial due diligence, deal advisory, implementation support etc. for energy players in Asia, Africa and Europe.
Rohit holds degree in Master of Business Administration (M.B.A) with specialization in Power and Bachelor of Engineering (B.E) in Instrumentation and Control.