As an equal opportunity employer, we believe the different perspectives, backgrounds and individual styles of our people add value to the organisation and contribute to its success. Our goal is to foster a workplace that respects and encourages the full participation of people who bring the full range of their talents, skills and abilities to the workplace.
With Step Up, we are offering female professionals on a career break an opportunity to re-establish themselves professionally and restart their corporate careers. Step Up is a prudently designed training-cum-internship programme that prepares them for a second successful innings in the corporate world. Through skill-gap analysis, focused mentoring, re-skilling and up skilling, on-the-job training and smooth onboarding, we facilitate a seamless transition from being on a break to being ready to be back in the business.
---
HOW DOES THE PROGRAMME WORK?
Step 1 – The candidate registers herself for a paid internship of eight (8) weeks
Step 2 – The HR teams conducts an initial screening to assess whether the qualifications match our requirement
Step 3 – Technical (video/audio) interview
Step 4 – Induction and onboarding of selected candidates
Step 5 – Internship (technical and soft skills training, on-the-job training, individual assignments or collective projects). A mentor/buddy will be assigned to interns for the duration of the programme
Step 6 – Certificates of achievement awarded to interns on successful completion of the programme

Know more
The career break could have been due to marriage, maternity leave, caring for the elderly, relocation, health issues or any other reason

The programme will be conducted in Bangalore and the National Capital Region in India (applicants should make themselves available at either of these location during internship as well)

The internship programme spans eight(8) weeks and will be run on a virtual platform for as long as Acuity staff work from home due to the pandemic (TBD)

You will have the opportunity to work on projects that match your skillset and project requirements

Application details
Programme duration: March to April 2021

Work locations: Bangalore/Delhi NCR

Last date for application: Candidates may apply until 10th February 2021.

For more information, please contact us stepupyourcareer@acuitykp.com
Disclaimer: Acuity Knowledge Partners (Acuity) does not commit to offering a permanent job role upon a candidate's successful completion of the internship programme. Any hiring decision will be based solely on the discretion of Acuity's Global Talent Acquisition Team.
Testimonials
"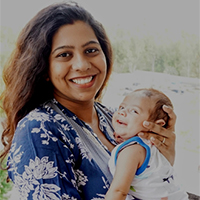 Shilpa Giri
Delivery Lead, Commercial Lending
I have been associated with Acuity for the past 6+ years. From a young ambitious girl to a working mother now, my journey atAcuity has been extremely enriching, with lots of learning and career development. With the support of wonderful colleagues and mentors, I have grown not only as a professional, but also as an individual. I never had second thoughts about returning to work at an organisation like Acuity after maternity leave. Their understanding, flexibility and commitment to providing work-life balance made re-joining simple and smooth. When writing this, I was wondering whether I experienced a disconnect for six months.? No, nothing had changed; it was that easy. I do not feel like a working mother, but rather like an empowered woman. My thanks to the leadership and the dedicated HR team for an incredible welcome.
"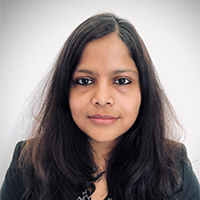 Manisha Baid
Assistant Director, Commercial Lending
I first joined Acuity's Investment Banking(IB) team in 2010. It was a much smaller firm at the time, but the work was as challenging, and I spent over four years setting up and managing a number of IB client engagements. The entrepreneurial bug bit me subsequently, and I left the firm to start my own venture. Come 2018, I saw an opportunity to join Acuity's new and fast-growing Lending team. It was a quick decision since the opportunity was exciting and promised a lot of learning. It also meant that I would have many chances to experiment, make decisions and contribute to the growth of the vertical. I believe Acuity offers good career progression and a fair work-life balance and adopts employee-friendly policies.
See how
we usually go about your selection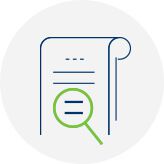 Step 1
Resumes sourced from multiple sources will be evaluated vis-à-vis the required skill sets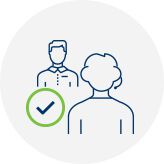 Step 2
The HR will contact the shortlisted applicants for the interview process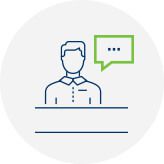 Step 3
There will 2-3 rounds of interviews (Telephonic/Face to Face/Skype, etc.)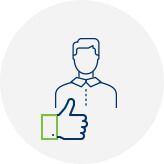 Step 4
The candidate who clears all the rounds will be shortlisted for the final offer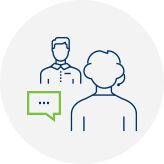 Step 5
HR to then get in touch with the candidate for salary discussion/Date of Joining etc