Alternative data steadily building momentum in lending
International Data Corporation estimates that the global artificial intelligence (AI) market (including software, hardware and services) will grow 16% y/y to USD327bn in 2021 and USD500bn by 2024. Fintech lenders now have an edge over traditional lenders in using alternative credit data with AI to offer products to thin-file customers. As digital transformation is adopted, traditional lenders will use alternative data in credit underwriting. The role of underwriters would change considerably, requiring them to understand and interpret how alternative credit data impacts risk parameters. This paper highlights the following:
Key Takeaways
- Alternative credit data in relation to the four C's of credit.
- Factors impacting effective adoption of alternative credit data.
- Approaches to machine learning that can be used to model credit risk from alternative data.
- Regulators' views on the use of alternative credit data.
- Our views on the next-gen underwriting process.
---
Author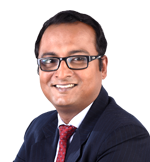 Subhrojyoti Mandal
Director, Commercial Lending
Subhro has over 16 years of experience in Credit Analysis across asset classes. He heads the projects and transition team for corporate and commercial lending domain. He holds a masters degree in commerce and completed Post Graduate Program in Artificial Intelligence for Leaders from UT Austin
Alternative data steadily building momentum in lending

Your file will start downloading automatically
If it does not download within 1 minute,