Financial Advisor IQ – ChatGPT Has Compliance Chops, But It's No CCO
Financial Advisor | April 3, 2023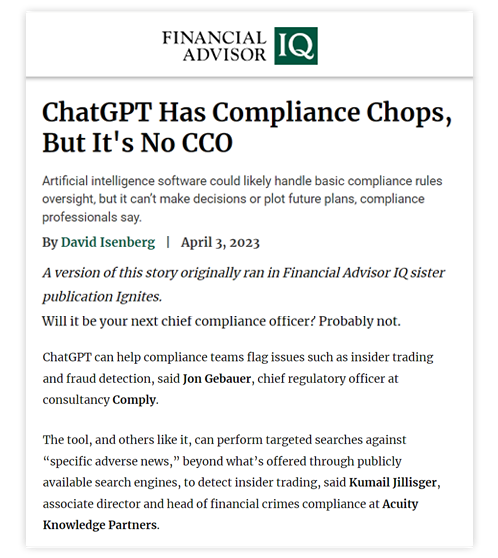 Kumail Jillisger, Head of Financial Crimes Compliance, Acuity Knowledge Partners, recently spoke with Financial Advisor IQ (FA-IQ) about how #ArtificialIntelligence softwares like ChatGPT can help organisations in the compliances oversight but can't really take on the decision-making.
Financial Advisor IQ (FA-IQ) is a fast-growing advisor resource from the Financial Times. FA-IQ informs, educates, and connects advisors with daily news focusing on practice management and a network of industry content from leading fund firms.
'Firms still need to evaluate ChatGPT's ability to be integrated firmwide into any know-your-customer or anti-money-laundering compliance regime,' he adds.
Latest News