Navigating the evolving landscape of the TCFD – a path to climate-resilient financial disclosures
TCFD recommendations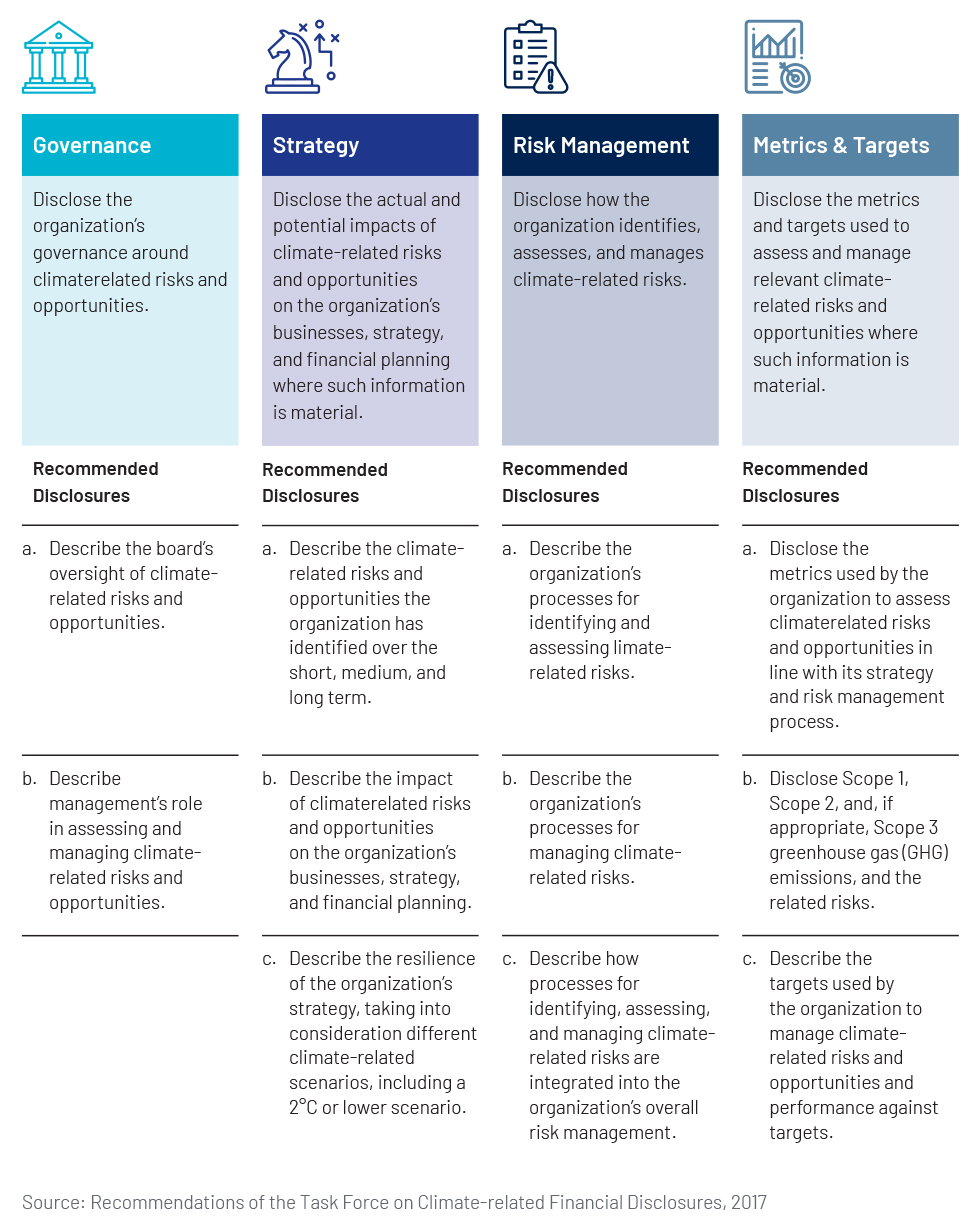 TCFD regulatory landscape
Along with global acceptance of the TCFD recommendations, the regulatory landscape surrounding the TCFD is also evolving rapidly as policymakers recognise the importance of climate-related disclosures for financial stability and the transition to a low-carbon economy. Key developments in the regulatory landscape are as follows:
Regulatory mandates: Several jurisdictions have implemented or proposed regulatory requirements for TCFD-aligned reporting. Notably, from 2022, more than 1,300 of the largest UK-registered companies and financial institutions have been required to disclose in accordance with the TCFD. An introduction of comparable obligatory reporting rules has been announced for other nations as well, including Canada, New Zealand, France and Japan.

Integration into existing reporting frameworks: Regulatory bodies are considering the integration of TCFD-aligned reporting into existing reporting frameworks. For example, in the European Union (EU), the Non-Financial Reporting Directive (NFRD) is being revised to align with the TCFD recommendations and introduce a mandatory sustainability reporting regime for certain large companies. This integration ensures climate-related disclosures are part of broader sustainability reporting efforts.

Standardisation and disclosure guidelines: Regulatory bodies and industry organisations are developing standardised disclosure guidelines to support consistent and meaningful reporting of climate-related information. One notable example is the European Securities and Markets Authority (ESMA), which has released guidelines on disclosure obligations under the EU's Sustainable Finance Disclosure Regulation (SFDR). These guidelines specifically address climate-related disclosures in alignment with the TCFD recommendations and provide clarity and guidance to companies on the specific information to be disclosed.

Enhanced supervision and reporting oversight: To ensure the quality and reliability of climate-related disclosures, regulatory agencies are increasing their attention on regulating and overseeing such disclosures. Authorities such as the UK's Financial Conduct Authority (FCA) and the US's Securities and Exchange Commission (SEC) continue to monitor compliance with reporting obligations and may take enforcement action against non-compliant organisations. This increased scrutiny motivates organisations to enhance the quality and accuracy of their climate-related disclosures.

International collaboration: Regulatory bodies and standard-setting organisations recognise the need for international collaboration to achieve harmonised and globally accepted sustainability reporting standards. Examples are the International Financial Reporting Standards (IFRS) Foundation and the International Organization of Securities Commissions (IOSCO), which have collaborated to address the challenges of fragmentation and inconsistency in climate-related reporting across jurisdictions and develop a unified and globally accepted framework for sustainability reporting in line with TCFD recommendations. By establishing a common framework, the international collaboration seeks to enhance cross-border comparability of climate-related information and ensure its usefulness for investors and stakeholders globally. This unified approach would facilitate more effective decision-making, promote transparency and support the transition towards a sustainable and low-carbon economy on a global scale.
Since their launch, the TCFD recommendations have gained significant traction worldwide. Many organisations, including companies, investors and regulators, have embraced them as a benchmark for disclosing climate-related risks and opportunities.