Demystifying internal carbon pricing approach
Why organisations are adopting ICP?
ICP entails the cost per ton of carbon released in the atmosphere from an organisation's operations. Businesses have a pressing need to quantify the adverse environmental effects of their investment decisions. The main objective is to make ICP a marketable asset for consideration while making such business decisions.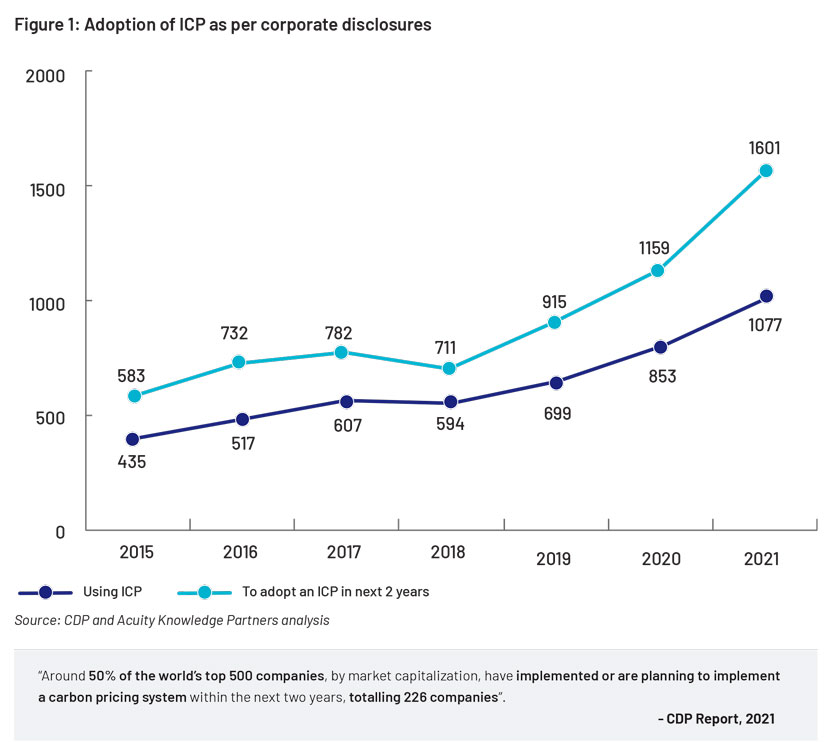 The concept of ICP was born after the launch of the carbon emission market thanks to the Kyoto Protocol. The emission market is a platform for countries and organisations to trade their emission certificates. Eventually, emission trading became a regulatory obligation in some countries, whereas some geographies and organisations adopted it voluntarily. Soon, carbon taxing emerged, with the government levying taxes on carbon emissions. Keeping the increasing number of external factors in mind, businesses that were exempted from a regulated emission market have actively started imposing prices on their emissions
How Acuity Knowledge Partners can help
Acuity Knowledge Partners support clients in the formulation and execution of strategy, research and advisory. Our team is qualified to execute customised decarbonisation, climate change, sustainability, ESG, and sustainable business development mandates. We offer consulting services to clients to assist their corporate development, strategy, and finance departments. Our offerings include ICP road map, decarbonisation pathway, net-zero strategies, carbon neutrality approaches, energy transition, low-carbon technology assessments, climate risk and opportunity analysis, company benchmarking, climate financing, and support on ESG disclosures and reporting.
Our team conducts extensive research and analysis to aid strategic consulting businesses in developing end-client solutions. We assist clients in developing transitional organisational models and redesigning operational frameworks that link their business unit plans to their major goals and targets.