NEW Whitepaper
The shifting landscape of US commercial middle market banking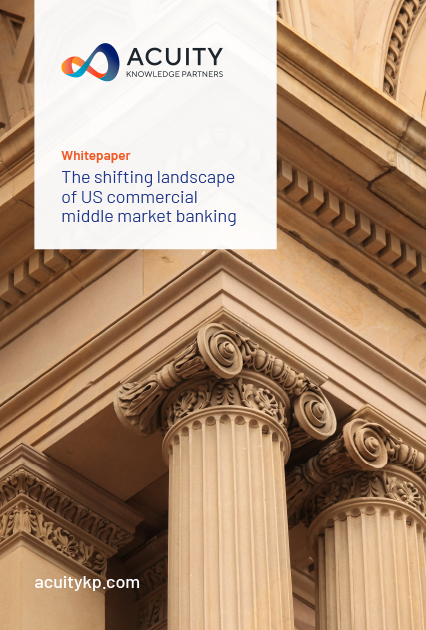 Thank you for sharing your Comments
Your file will start downloading automatically
If it does not download within 1 minute,

The middle-market sector is one of the US economy's major growth drivers, with its critical contributions such as large and sustainable revenue and job creation to the national and state economies. The performance of and outlook for the sector are credible and leading indicators of the health of the entire US economy.
This white paper studies recent and ongoing transformation in the US commercial banking landscape, especially in the middle-market sector. It evaluates current challenges in the sector and reviews some of the top strategic focus areas of banks in this sector. It also discusses possible measures to overcome these challenges and key factors that the banks should strategically focus on.
Key Takeaways:
Platform: As the speed, ease, and mode of banking continue to shift towards mobile and digital media, adoption of a fully integrated, multi-channel, core banking/lending platform has become not a choice but a necessity for middle-market commercial banks
People: A bank's system/operational transformation journey cannot be successful without a cohesive and re-imagined people strategy. Upskilling on newer systems and technologies, dynamic workforce planning, and creating a millennial-friendly work culture are a few of the ways in which banks are positioning themselves to survive and thrive in the ongoing battle for banking talent
Pricing: To offset the rising pricing pressure and deal with intense competition, many middle-market commercial banks are upgrading their prospecting and core lending functions to unified, automated, and cloud-based digital platforms, while others are choosing to partner with fintech firms for improved quote response times and greater cost efficiencies