 Get your free copy
Smart home technology: A rising opportunity for energy utilities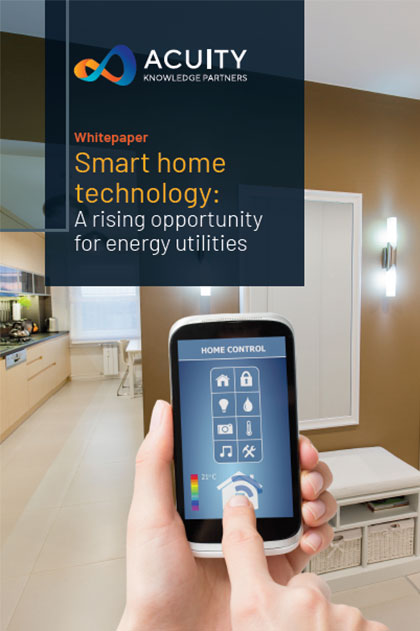 Thank you for sharing your Comments
Your file will start downloading automatically
If it does not download within 1 minute,

In this age of green products and digital transformation, smart home technology is becoming popular globally, specifically in economies like the US, China, the UK, Germany and Japan. This insight paper explores demand for smart home technology in the domestic sector and how energy utilities are leveraging growth-enabling trends to keep themselves relevant in the UK's competitive energy market. The utility sector needs to compete amid rapidly changing customer needs and technological trends, and decarbonisation efforts. We believe smart home products present utilities a perfect opportunity to diversify their business models, revenue models, and value propositions, and add new revenue streams. Smart products offer users comfort and convenience, but adoption remains low due to high switching costs and a lack of awareness.
Key Takeaways:
Owing to changes in lifestyle, rising safety and security concerns and increasing awareness of climate protection and energy efficiency, the adoption of smart products is increasing globally. In 2019, the global smart home market has crossed USD50 bn. and is expected to grow at a heathy rate of over 15% in the near future
With features like integrated control, anywhere accessibility and flexibility to add more products etc. Smart products brings a lot of comfort and convenience to end users but owing to lack of technology awareness, high switching cost and interoperability their adoption is limited to a small customer group.
Utility sector is leading to faster adoption of new strategies to offer smart products and related services to customers. Utilities are adopting innovative revenue models to encourage customers and make smart products more affordable for them.
Not only the Big Six but also medium-sized and small payers are launching new smart products or services, either in partnership with OEMs or through the acquisition of start-ups in smart home market.