10 power pact trends transforming
the future of e-mobility in the UK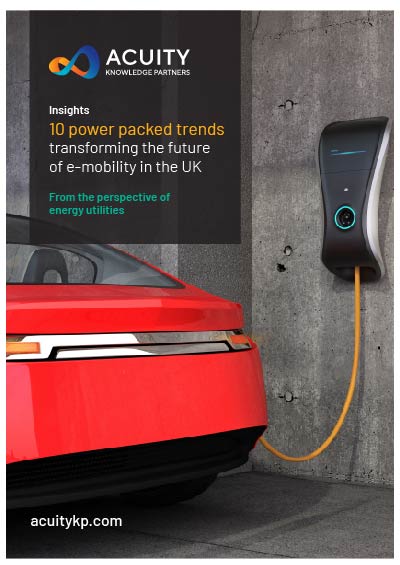 Thank you for sharing your Comments
Your file will start downloading automatically
If it does not download within 1 minute,

Electric-vehicle (EV) adoption is increasing sharply across the globe among domestic, commercial and industrial customers. This trend is primarily due to the push from federal governments through policy mandates, and fiscal and financial benefits, but we expect this market to become self-driven soon. Based on the forecast growth trajectory of the EV market, energy companies in the UK are also seeking opportunities to enter the market. This insight paper highlights 10 power-packed trends shaping the future of the UK's EV market.
In this age of decarbonisation and clean technologies, energy utilities need to respond faster than ever to cater to rapidly changing customer expectations and leverage growth-enabling trends. These trends showcase the EV market from the perspective of energy utilities, to highlight potential opportunities in the UK market.
Key Takeaways:
Trends, showcasing growth of the UK's EV market and new targets mandated by the British government to encourage EV adoption. We also highlight how big energy companies and fleet operators are entering the EV market to build their brands
Customer adoption trends, fast adopters, and preferred procurement models for EV adoption, including the main concerns of potential adopters of EVs in the UK
Challenges in terms of public EV charging and emerging payment options, and new technologies being developed to make EV charging more affordable and convenient for end users
New investments, partnerships among energy players in the EV market and how energy demand would vary with EV adoption in the UK in different scenarios