Download Blog
Published on November 3, 2023 by Rabin Thakur
"Corporate responsibility" is a term coined in the 1950s, when American economist Howard Bowen identified that big corporations tend to have a tangible impact on society, and argued that they, therefore, have an obligation to conduct their operations in a manner that benefits the common good[1].
Key levers for incorporating responsible business practices subsequently came to be identified largely under the umbrella of environmental, social and governance factors. While corporate social responsibility was manifested largely through philanthropy over the '70s and '80s, it is currently expected to become an integral part of doing business, resulting in what is popularly known as "corporate purpose".
The UN's Sustainable Development Goals (SDGs) emerged in 2015 – a clear framework of 169 sustainability targets spread across 17 goals to meet the needs of sustainable development. While the SDG agenda was for national governments, businesses responded by charting their own corporate responsibility strategies. An interesting study by Reuters[2] suggests that the percentage of corporations with chief sustainability officer (CSO) positions spiked to 28% in 2021 from a meagre 9% in 2016.
What is 'corporate purpose', and how much of it does a business truly understand?
Global private equity firm EQT explains in a statement in 2019 that "corporate purpose" refers to a commitment to being "more than capital", meaning that all of a corporate's investments should meet the SDG objectives. The aim is "to future-proof companies and have a positive impact"[3].
However, subsequent studies suggest a lack of understanding of this purpose and how to integrate it into business strategy. A 2019 survey[4] of directors from 700 public companies showed that 56% of them reported spending too much time on sustainability, according to Harvard Business Review.
It was also concluded that company boards are spending too much time contending with the issues relating to compliance with ESG standards and sustainability rather than focusing on integrating these standards to generate long-term value. It should be understood that executive management plays a critical role in meeting corporate responsibility and the sustainability mandate.
Role of executive management in corporate responsibility
The role of executive management in upholding the sustainability mandate has been evolving in recent years. While managing sustainability was previously a board member's or committee's additional responsibility, corporations now appoint dedicated sustainability executives and officers.
These individuals are entrusted with interpreting the business environment and formulating strategies to enable their organisations to generate long-term sustainable value. A 2021 study by PwC shows that the number of sustainability officers appointed globally over 2020-21 was as many as the number appointed over 2011-19[5].
The following are the broad responsibilities an executive management team needs to undertake to ensure corporate responsibility is fulfilled:
1. Incorporate ESG and sustainability in overall governance
One of the core responsibilities of executive management is identifying and mitigating business risk. Embedding sustainability and ESG in overall governance enables an organisation not only to identify challenges and opportunities, but also to respond to risks more effectively.
2. Understand and align corporate responsibility priorities across the organisation
The executive management team is responsible for developing a common narrative around corporate responsibility for the organisation, as the different functions would vary in their understanding of ESG and sustainability and how to align their roles and operations.
The role of executive management, thus, can be considered as building a common language around corporate responsibility within which all the functions can discuss and align their priorities.
3. Jointly define broad KPIs for monitoring corporate responsibility
There are a number of frameworks available currently, increasing the difficulty of choosing one that is appropriate for reporting or collating ESG-related data.
As reporting on KPIs is probably the best way to communicate a company's efforts to meet corporate responsibility, the executive management team has a significant role to play in defining the broad KPIs on which the company will report and communicate to internal and external stakeholders.
4. Report to relevant stakeholders
Transparency is part of corporate responsibility. However, not all information needs to be disclosed to all stakeholders. Therefore, the executive management team, well aware of the company's external environment, must devise the best strategy for communicating efficiently and effectively with the different stakeholders.
Thus, executive management needs to oversee all aspects of an organisation that are critical for meeting the sustainability mandate. While compliance with the laws of the land is a basic requirement, taking ownership of sustainability-related matters is increasing in importance.
The following are ways in which to ensure your company continues to meet corporate responsibility: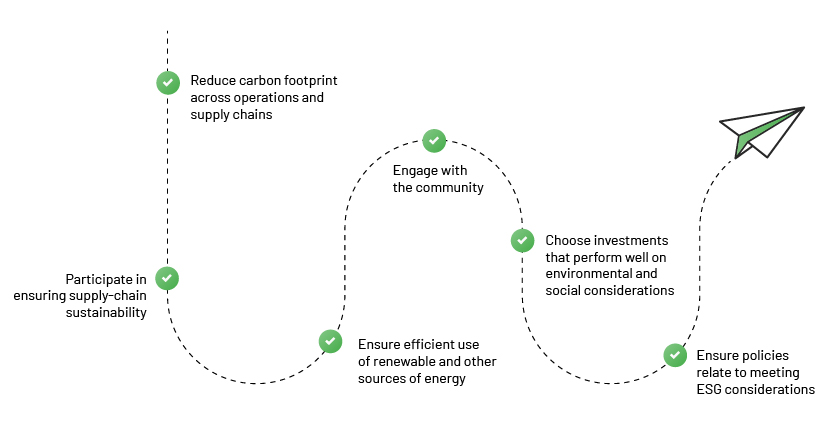 How Acuity Knowledge Partners can help
We help companies devise strategies around corporate responsibility. We provide research and analysis support to develop the right policies and procedures to comply with applicable sustainability frameworks. Key tasks within this space include data collection from portfolio investments; designing templates for internal and external reporting; conducting preliminary and deep-dive analyses of ESG policies, initiatives and procedures relating to target portfolio investments; ESG due diligence; and thematic research.
Source:
---
What's your view?
---
About the Author
At Acuity, Rabin is overseeing multiple ESG engagements which includes research, analysis and reporting assignments for clients in the US and Europe. Overall, Rabin holds an experience of 8+ years which is spread across various areas of client management and interface within the domain of ESG and Sustainability. Rabin holds a post-graduate diploma in Sustainable Management from Indian Institute of Management, Lucknow

Blog
How electric vehicles threaten the ESG ecosystem....
According to the International Energy Agency (IEA), 10.3m electric vehicles (EVs) were sol....Read More

Blog
PE&VC sector continues to face headwinds....
Private equity and venture capital (PE&VC) firms face strong headwinds in the form of ....Read More

Blog
Advantages of having a remote executive assistan....
"They're troubleshooters, translators, help desk attendants, diplomats, human database....Read More

Blog
Climate change and private equity – how env
Global investment in PE peaked at USD2,383bn in 2022, an approximately 4% increase from US....Read More
Like the way we think?
Next time we post something new, we'll send it to your inbox