Download Blog
Published on June 19, 2023 by Amaan Ahmad
"Drones", or unmanned aerial vehicles (UAVs), have gained widespread use across sectors and functions and become a household name in recent years. This emerging technology, with a large number of applications now possible due to easing government regulations, is set to make headlines over the coming years.
Initially used by the military, drones have come a long way in terms of application and are currently used for purposes such as internet provision in remote areas, aerial photography, delivery, agriculture and disaster management.
In 2022, the value of the global commercial drone market was estimated at USD29.86bn. It is expected to grow steadily, at a CAGR of 38.6%, over 2023-30. Drones are also used in fields such as filming and emergency response to cater to a diverse range of applications.
The construction sector reported the highest use of drones by the end of 2021, followed by agriculture and law enforcement. Entertainment and energy reported the least use but are expected to grow their share as the drone industry expands.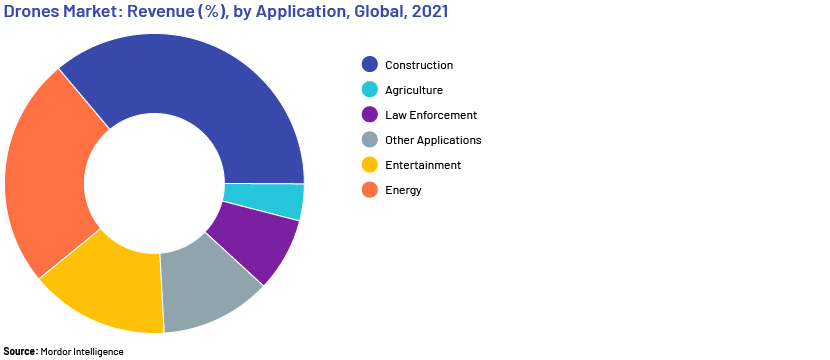 4 Key trends in the drone industry
Increasing adoption in construction and mining
UAV use in the construction and mining sectors has increased in recent years and could become a USD28.3bn global market by the end of 2023, according to PwC. Applications in the sectors include mine surveying, inventory management, stockpile estimation and hot-spot detection. These are two sectors where the potential for drone use is untapped and where their use could deliver significant value for businesses.
Growing use in agricultural activities
Farmers use drones for monitoring aspects such as the weather, crop patterns, wildlife and fertilisation. It is estimated that drones can spray fertiliser 40 to 60 times faster than the manual process. Drone technology provides a wide range of crop-monitoring options at a reduced cost. Drones can also be incorporated across the crop lifecycle – from soil examination and seed sowing to determining the optimal time for harvesting. This would help transform methods of food production to match demand due to population growth.
Rising adoption by law enforcement agencies
The police use drones in a variety of situations, including for surveillance of large open areas, negotiating hostage situations, pursuing armed suspects and investigating bomb threats. Apart from monitoring and rapid reaction, UAVs provide comprehensive images and documentation of properties, facilitating efficient data analysis, risk identification and security planning. They are an innovative and affordable alternative to helicopters, which can be very costly and are not always readily available.
Growing use in aerial photography and entertainment
Drones are used widely to record documentaries, for private and public videography and capturing news footage when humans cannot (in the event of fire or other disasters). Many fly drones as a hobby and for entertainment. The market is expected to be worth USD3.26bn in 2025, growing at a CAGR of 9% from 2025. The benefits drones offer this sector could attract the interest of venture capitalists and private equity investors.
Key drivers of this growth
Easing regulations
Regulations governing commercial drone operations are currently one of the most important factors affecting the adoption of drone-powered solutions. However, a number of governments are now open to their use. India's Ministry of Civil Aviation announced relaxing drone-related regulations in August 2021. The new rules have resulted in a positive and supportive ecosystem for drone manufacturers and operators.
Growing applications
Drones are used mainly in the agriculture, mining, telecom, insurance, telecom, oil and gas and construction sectors. A number of companies in other sectors are also experimenting with drone applications, and we expect the number of applications to increase given the ease of deployment and versatility.
Increasing number of startups/investment in drone industry
The drone industry is one of the fastest-growing; it is expected to grow at a CAGR of 23.8% – from USD13.9bn in 2021 to USD40.7bn by 2026, according to MarketsandMarkets. As hardware solutions continue to improve and prices decrease, the number of drone applications is expected to increase, encouraging individuals and businesses to invest in this innovative and accessible technology. USD5bn has been invested in drone technology in the past two years, according to a report by Phystech Ventures. Lux Capital and Qualcomm Ventures are among the most prominent investors in this domain. The investment community realises the potential and is looking to capitalise on it.
Conclusion
From quick delivery to providing crucial military intelligence, drones are proving to be extremely useful in performing tasks in a timely and efficient manner. Common concerns are drones crashing, legislative uncertainty, security and their use in spying. It is crucial that these issues be addressed to ensure the safe and responsible use of drones in the various applications. The drone market is likely to grow significantly in the coming years, as is investment in it. The emergence of new drone applications, coupled with their potential for enhancing efficiency, cost saving and safety, presents investment opportunities in drone and related companies.
How Acuity Knowledge Partners can help
We help clients identify investment opportunities in a number of sectors. Our dedicated teams of analysts (CAs, MBAs and CFAs) also provide support in areas such as idea generation, financial modelling, financial analysis, thematic research, database creation and regular sector coverage.
Sources:
---
What's your view?
---
About the Author
Amaan has over 2 years of experience in Financial Research and has been associated with Acuity Knowledge Partners (Acuity) since August 2021. At Acuity, he manages a key Private Equity Client. He has extensive experience in preparing Company Profiles, Industry Overviews and Financial Benchmarking. He holds a bachelor's in commerce (Hons.) from Deen Dayal Upadhyaya College, University of Delhi and he has also passed CFA Level 1
Like the way we think?
Next time we post something new, we'll send it to your inbox