Download Blog
Published on April 22, 2022 by Santosh Sobrad
"Run your business as if it were in trouble. Because if you don't, it will be some day" – Jack Miles, Pulitzer Prize-winning American author
Effectively creating, packaging, managing and distributing the right content is critical to empowering successful sales teams. With asset and wealth managers putting so much focus these days on having the right content, the role of sales support for sales and marketing teams can often be overlooked.
Sales support teams are able to interact with client-facing personnel in the sales and marketing and delivery verticals. Critical functions these teams engage in include identifying the right set of customer stakeholders and their current challenges, and determining how to have targeted and systematic conversations with them. This ensures optimal return on investment of the selling system.
It is important to note that sales support is not just in terms of content; it involves strategising to maximise the seller's ability to communicate value and differentiate in a clear, consistent and compelling way. This approach helps align client-facing teams such as marketing, sales and operations around the common goal of equipping salespeople with the right resources, tools and processes to sell effectively and support clients.
A sales support team can bring expertise in providing support to all facets of business development, sales and relationship management and work closely with client and financial advisors, relationship managers and global sales support teams to facilitate the process.
They integrate with the centre of relationship intelligence, connecting all touch points across the client lifecycle, to help drive sales performance and deliver a purposeful client experience. This team can also coordinate with various stakeholders (marketing, client services, product, finance, business intelligence and technology) and provide complete coverage of the cycle.
With the right strategies and tools, firms can replace face-to-face interaction without forgoing the personal touch. The pandemic changed the sales landscape and amplified the importance of sales support. This has become more pronounced the past year, with sales support having gone mainstream and set to become part of C-suite functions.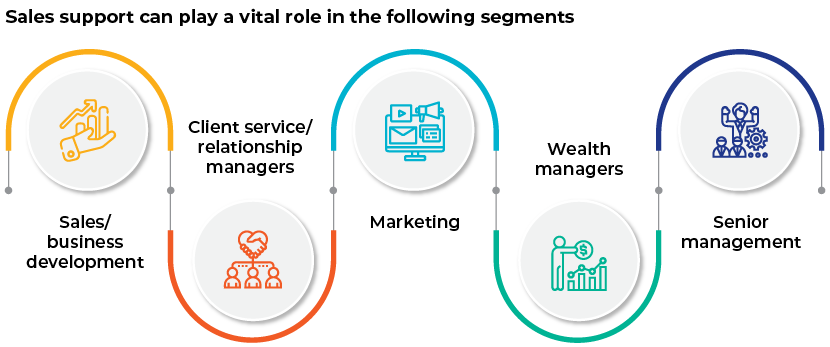 Sales/business development – The team can work closely with sales on day-to-day operations, e.g.
Decks/collateral – Creating and managing presentations for sales pitches, case studies and other collateral
RFP process – Coordinating the request for proposal process, covering the breadth of investment and solutions platforms
Accounts – Prospect/account mapping, assisting the sales team to implement the company's sales strategies to attract new clients, keep track of warm discussions
Client service/relationship managers – The team can understand
Client background – Current and new client relationships and their asset allocation preferences, and assist with client review presentations, preparing the latest marketing collateral
CRM/automating updates – Maintaining client/internal information on CRM tools, databases and systems and updating customer engagements. A good sales support team uses the platform to automate content updates, such as monthly and quarterly factsheets. By pulling in the most recent data from the correct sources, a company can ensure its material is accurate and compliant, potentially saving millions of dollars in fines
Marketing – Sales support can also partner with marketing teams for
Product – On new product launch initiatives and event management including invitation and response management and market research communications
Content – Coordinating content and production of marketing material and posting social media updates
Campaigns/events – Outreach on webinars, blogs and other events by sharing flyers with contacts. Promoting events for maximum coverage
Lead sourcing – With the help of marketing automation tools, assisting asset/wealth management with email design and distribution, contact list management, lead nurturing, reporting and analysis
Wealth managers – With the increased need to assess potential customers based on income levels, geographies and propensity to invest in a particular instrument, and the need for overall data management and timely email and telephone communication, wealth managers can benefit from an inside sales team that eases the workload, enabling them to focus on client building and subsequent account farming.
Senior management – A sales support team can help achieve management's vision
Strategy – Sales support can help prepare material for strategy meetings/business reviews/sales conferences. Oversees coordination of key client meetings/client events
Latest trends/news updates – Researching trends within the distribution channel universe and staying well informed on industry developments, regulatory changes and the implications for client portfolios
The team can also share the latest news, to keep management up to date
Benefits of partnering with Acuity Knowledge Partners
We set up high-quality sales support teams for leading financial institutions. These teams come with experience in sales support activities such as digital marketing, compiling marketing collateral, reporting, proposal writing, and blog and content writing. They understand the nuances of sales support and have consistently delivered meaningful solutions, thought leadership and cost benefits to our clients.
From the kick-off call to packaging final client deliverables, we offer a one-stop shop for our clients' sales and marketing requirements, We also offer sales support activities such as content management; design; compiling pitch books, proposals, presentations and brochures; digital marketing; and client reporting across digital platforms including Qvidian, RocketDocs (PMAPS), RFPIO, Loopio, DOOR and DiligenceVault.
With our unique blend of the trident approach comprising process, people and technology, our clients can expect a partnership that offers a true "plug-and-play" service able to deliver results faster and a return on investment that is unmatched in the industry.
Sources:
https://seismic.com/blog/what-is-sales-asset-management-and-why-should-you-care/
---
What's your view?
---
About the Author
Santosh Sobrad is a Delivery Manager within Fund Marketing practice at Acuity Knowledge Partners, and has about 11 years of experience in Sales Support. He is proficient in different aspect of Sales support such as Account research planning, Sales and Marketing campaigns and Market insights etc. His previous experience includes tenure with KPO industry, where he assisted in business research & development, inside sales campaigns including research on potential target industries and creating company target lists, Lead Generation across different industries and geographies.

Blog
A deep dive into the SEC's new Marketing Rule....
With the compliance date for the US Securities and Exchange Commission's (SEC's) new M....Read More

Blog
Trends in fund distribution in 2022....
2021 has been a year of recovery, albeit gradual, from turbulent times. With markets witne....Read More

Blog
Afghanistan's mineral wealth and China's int....
We have seen a number of developments in Afghanistan recently, after the US announced with....Read More
Like the way we think?
Next time we post something new, we'll send it to your inbox