Download as PDF
Published on May 25, 2018 by Ayman Nuhuman
Fundamental equity analysts generally use a top-down approach to identify potential investments, basing their analysis on a stock's fundamentals. In a perfect world, this would generate a clear Buy, Hold or Sell recommendation. Technically, markets should reflect the outlook on all stocks traded therein. But markets are driven not purely by fundamentals, but also by emotion. Stock picking in a world of emotions is a nightmare for any portfolio manager. The answer to the challenge may lie in artificial intelligence (AI)-based stock selection.
Given the ocean of data, portfolio managers with an AI edge are likely to have better strategies for identifying market opportunities. A case in point is the BUZZ US Sentiment Leaders ETF (BUZZ), which combs through investor sentiment via social media, news articles and blogs to identify the most frequently mentioned stocks in the investor landscape. The Fund's AI measures sentiment toward a stock to understand the "vibe" of the market, which may be positive, neutral or negative, and rebalances its underlying based on overall sentiment.
The following graph depicts how the AI-based index (BUZZ) has been able to mimic market movement without the need for human interaction.
Source: Reuters
Large funds have for years been at the forefront of developing AI and machine-learning capabilities. Man Group, Renaissance Technologies, Two Sigma, and Bridgewater Associates are some firms that have invested heavily in AI.
In a related development in January this year, STOXX launched an index that uses AI to select companies that invest significantly in AI. The index comprises around 200 companies in diverse industries – from telecommunications to technology to finance. The key criterion used by the index is patent filings related to AI. This rule-based AI index is a disruptive step in the index space, likely laying the foundation for AI-driven company selection.
A recent BlackRock study found that 24% of all institutions expect to shift their investment allocations to active management in 2018. This transition could be due to increased market volatility, coupled with high equity valuations in the market.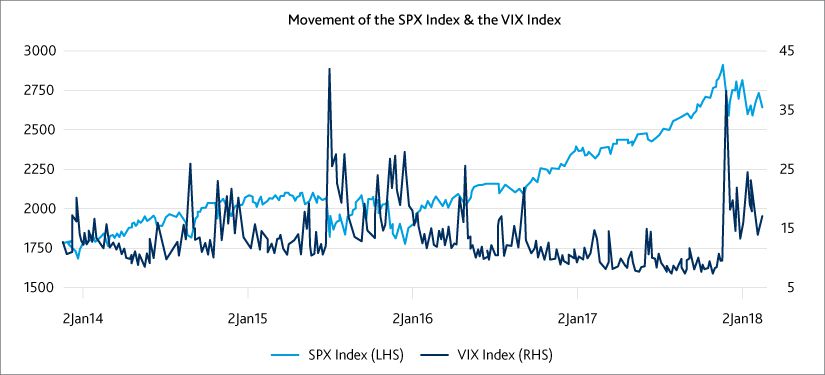 Source: Factset
The graph above depicts how the S&P market has grown in recent years, making a case for increased investments in equity. Along with growth, volatility has increased, as highlighted by the VIX. A growth market coupled with high volatility will create "noise". A "Big Bang" moment may result in overreaction and emotional decision making. This could be avoided if investments were rules-driven and based on strong market fundamentals.
AI-based investment strategies should therefore help portfolio managers to eliminate "noise" from the market and to reach a disciplined investment hypothesis. This data-based approach would help rebalance a portfolio of stocks that previously was purely reliant on the portfolio manager's experience. We believe the future of investing lies in data and AI, and that it is therefore important that firms be "digital pioneers", innovating and embracing this transformation.
Sources:
https://www.stoxx.com/press-releases-details?articleId=851404667
http://buzzindexes.com/wordpress/wp-content/uploads/2018/02/This-AI-Robot-Picks-Stocks-Based-on-Millions-of-Human-Emotions.pdf
http://www.buzzetfs.com/documents/buzz-us-sentiment-leaders-etf-fs-20171231.pdf
https://businesswireindia.com/news/fulldetails/global-institutional-investors-brace-market-risks-pursue-active-approach-2018-blackrock-study/56615
---
What's your view?
---
About the Author
Ayman Nuhuman is a CIMA (UK) Passed Finalist. He has also completed Level I of the CFA program. Ayman has supported the Investment Research vertical at Acuity Knowledge Partners for the past 8 years.

Blog
Are secondary markets in emerging markets becomi....
One of the favourite strategies of private equity (PE) investors for exiting the market is....Read More

Blog
AI and ML in banking – the next significant di....
Artificial intelligence (AI) and machine learning (ML) are shaping how banks work and perf....Read More

Blog
Digital ESG communications from a compliance per....
An environmental, social and governance (ESG) framework helps shareholders recognise how a....Read More
Like the way we think?
Next time we post something new, we'll send it to your inbox