Interest in data visualization tools and their potential to communicate effectively has spiked recently, with data visualization being recognized as an essential part of effective research communication.
Businesses are now looking for more visually appealing, interactive and agile tools that fit real-time data requirements. Seeing their data and related analytics presented visually helps decision makers grasp difficult concepts and identify new trends.
Acuity Knowledge Partners offers more than a decade of analytics expertise, together with interactive visualization tools and technologies, to help you take data visualization to the next level. These tools use technology to delve deep into charts and graphs to explore future patterns and make predictions. Our team's expertise lies in online and offline dashboards.
---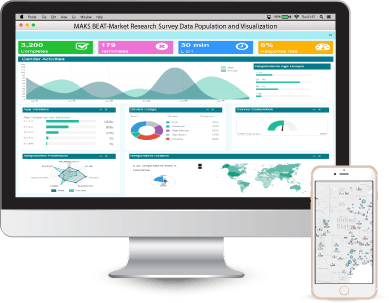 Features
Our dashboards provide quick, accurate answers to critical aspects (such as factors driving growth and areas in which a company is spending its resources) and a way to compute key performance indicators (KPIs) across all departments
These support a level of awareness – a snapshot of the company – that would be difficult to collate from traditional reports.
Our offline dashboards combine and display information relating to multiple questions on a single slide. Such monitoring is a powerful addition to a company's business intelligence arsenal.
Data representation is not limited to graphics. These automated dashboards also have interactive options and user-friendly features.
Approach & Impact
Approach
Dashboard automation works quickly and effectively to achieve the desired outcome consistently and accurately the first time, every time
Charting guidelines are reviewed and designed as inputs to Python scripts for our online dashboards and VBA scripts for our offline dashboards
Custom scripts perform a series of tasks, including combining charts with the required labels and question text. These scripts are intelligently designed to select the right chart for the right question type
Impact
Process is streamlined, with minimal human intervention, eliminating reducing human error
Potential time/cost savings of 50-60%
Quicker/visually better deliverables for the client
Significant cost savings for the client in terms of investment in additional IT resources