FundMETRIX, our data-reporting solution, powered by a dedicated data-governance platform, enables asset managers to publish reports while ensuring data accuracy, a quick turnaround time and cost efficiency.
FundMETRIX is a robust, bespoke automated data-reporting technology and managed services solution that overcomes the reporting challenges faced by many asset management firms, banks and corporates. We understand that each organisation's requirements are different. So, we design and build a flexible, scalable and cost-effective technology platform that suits the organisation's specific requirements to overcome its existing challenges.
Along with managed services, we offer ongoing data, production and tech support to free up our clients' bandwidth to let them focus on more critical aspects of their businesses.
FundMETRIX focuses on enabling automation in the following areas:
• Investment Reporting
• Risk Reporting
• ESG Reporting
• Management Information Systems (MIS) Reporting
• Data Visualization and Reporting
• Data Aggregation / Collection
• Data Cleansing and Validation
• Centralized Database
---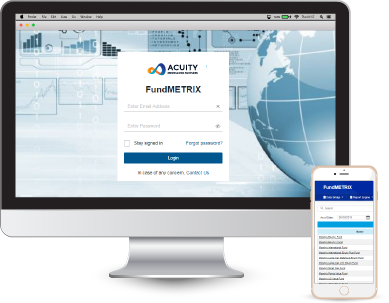 Features
Strong data governance: Benefit from efficient data sourcing, validation and ingestion through our proprietary Data Bridge solution
Scalability: Gain access to an industrialised platform to build and scale report production
Customisation: Use FundMETRIX, along with managed services, to build custom reports with minimal effort and cost
Speed to market: Gain access to a robust workflow, with effective dashboards that have data edit and audit trails to reduce the turnaround time
Cost effectiveness and flexibility: Leverage the FundMETRIX reporting platform, along with managed services, to establish a flexible, cost-effective solution
Approach & Impact
Approach
FundMETRIX provides an integrated framework, including a dedicated data-governance platform (Data Bridge) and a report production tool (Report Engine)
It enables seamless integration with data sources (internal and third-party databases, as well as manual data uploads)
It offers a strong manual and industrialised rule-based validation framework
Its data and report dashboards offer powerful workflow-management framework that can be used to schedule, control and monitor the data and reporting work flow
Impact
30-50% cost savings
80-85% quicker turnaround times
95% accurate and timely data uploads
100% asset class coverage