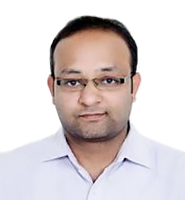 Prakhar Agarwal
Delivery Manager
He is a key member of Acuity's Corporate and Consulting vertical and is responsible for client and project oversight for ESG research and consulting.
He holds experience in executing and managing projects around ESG and social impact across sectors involving business research, corporate strategy, market & competitive intelligence, target screening, operating & financial benchmarking, ESG KPIs identification, goal setting, etc.
Prior to Acuity, he worked with a social enterprise working on impact leadership and content development around ESG, Sustainability and Impact. He has been part of  multiple on social impact projects with a leading startup in healthcare sector. He also has over half a decade of experience working with a global leader in business intelligence and data service space.
He has extensive experience of extracting and exploring global databases across diverse segments and has strong working knowledge of various secondary data sources such as Bloomberg, Capital IQ, Factiva, FactSet, RepRisk, Refinitiv, Thomson Reuters, etc. He has done MBA in Finance & Marketing from ICFAI Business School, Executive MBA from MYRA School of Business, and Bachelor's degree in Commerce from Dr. Bhimrao Ambedkar University, India.