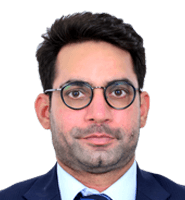 Karan Sehgal
Senior AVP, Private Equity Research
Karan is part of the Private Equity team at Acuity Knowledge Partners and is responsible for providing research and business development support to clients.
He has over 9 years of experience in account management and solutions selling in the KPO space, and has worked in different capacities in the pre-sales, sales, and operations functions over the course of his career. Prior to joining Acuity Knowledge Partners, Karan worked with Dun & Bradstreet as Account Manager and with another KPO in their Marketing and Sales Operations team.
Karan holds a Bachelor of Technology degree from Jaypee University of Information Technology, Solan, and has recently completed a postgraduate program in Business Analytics from Great Lakes Institute of Management.