Download as PDF
Published on May 11, 2018 by Yojak Khanse
"Sales enablement" is the new buzzword in sales organizations. The term encapsulates the idea of delivering the right information to the right target in the right form at the right time to help move a revenue opportunity forward. It is not a coincidence that "right information" finds its mention, as industrywide, content is being recognized as the core of what we do. RFP teams form an integral part of sales enablement groups across the financial industry.
RFP content management is now more critical than ever for asset managers. A competitive environment and an ever-evolving regulatory landscape have led to asset owners issuing more RFPs and DDQs. However, budget constraints have limited the teams' ability to expand linearly to handle these growing volumes. Asset managers therefore need to find an effective solution that will enable teams to handle these volumes without compromising the quality of RFPs and DDQs. Having led the set-up of RFP teams for global asset managers, I have seen different content strategies and priorities, ranging from outsourcing to machine learning. So while there is no single right fit for all, companies certainly need to have well formulated and evolving content strategies.
Content is at the heart of everything we do. While most firms use tools such as Qvidian, PMAPS, Seismic, and SharePoint as platforms for content management, some still use the archaic way of maintaining content in Word documents they refer to as "RFP FAQs". The tech-enabled tools allow RFP teams to effectively manage all stages of the content management lifecycle and to respond to RFPs/RFIs/DDQs/CDBs with the most relevant and accurate data.
It is imperative that an RFP team have a member dedicated to managing content-related activity. The team would focus on finding new ways of maintaining highly accurate data and liaising with content owners for timely reviews, so that RFP writers could access the latest and approved content ready for use. This significantly reduces RFP turnaround time for writers, as it eliminates the need for them to coordinate with several teams to get the latest data. This also ensures standardized content across global RFP teams.
Most RFP teams have no content strategy, despite the seemingly obvious importance of content management. We believe the following are possible challenges they face:
Bandwidth: In many cases, RFP writers are also responsible for managing content but are unable to keep up with the increase in RFP volumes, and content therefore becomes obsolete over time. The lack of a dedicated content administrator will likely undermine the firm's entire content strategy.

Organizational structure: A company's RFP team falls either under sales or marketing. Teams that report to sales are inclined to be more process-driven, with very little focus on content, design, and other such factors, as opposed to teams that report to marketing.>

Know-how: Small to mid-sized firms that are more cost-conscious may not have access to resources, including the required expertise, or even be aware of industry best practices.

Culture/vision: Some firms may face a culture barrier that prevents them from taking business-related risks.
Acuity Knowledge Partners proven experience in helping our clients manage and maintain their content systems has positioned us uniquely to provide content management services either as a standalone service or as a service that complements our RFP capabilities. By leveraging our knowledge of industry best practices, we can provide the necessary expertise, while remaining cost-effective.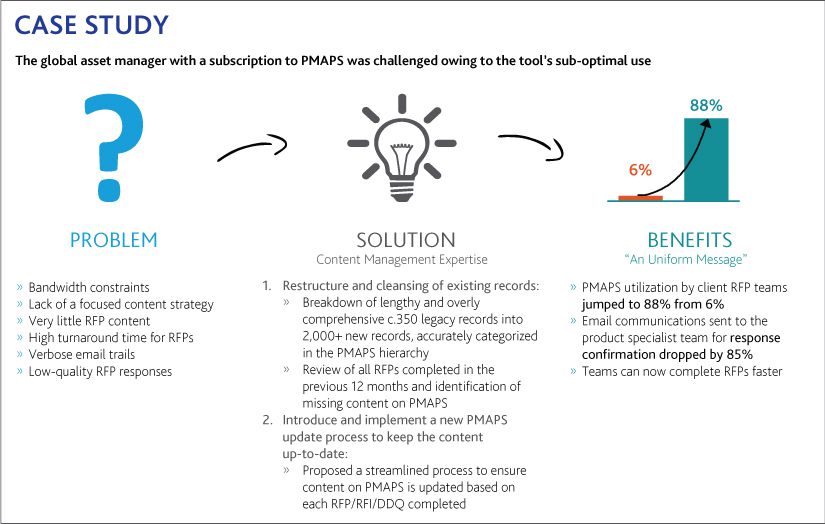 ---
What's your view?
---
About the Author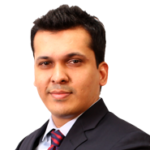 Assistant Director. Fund Marketing Services
Yojak manages RFP teams within Fund Marketing Services (FMS) at Acuity Knowledge Partners. He is responsible for meeting client expectations on deliverables, introducing process improvements, and team coaching/mentoring. Prior to his current role at Acuity Knowledge Partners, he served in similar capacities at top custody and asset management firms such as J.P. Morgan. Yojak has over 8 years of experience in business development and strategy related roles. He holds an MBA, with dual specialization in Finance and Strategy from the University of Illinois at Urbana-Champaign.

Blog
The next big thing in banking – Customer Exper....
The pandemic has affected our lives and businesses in many ways. Businesses have started l....Read More

Blog
Investment Compliance: Not "just controls&....
Introduction Investment compliance includes complete investment restriction monitoring an....Read More

Blog
Private equity investing unlocks: from pure-play....
Good tactics can save even the worst strategy. Bad tactics will destroy even the best stra....Read More
Like the way we think?
Next time we post something new, we'll send it to your inbox